Nusa Penida
Nusa Penida is the biggest of the three Nusa Islands southeast of Indonesia's island Bali and is a district of Klungkung Regency together with the neighboring island of Nusa Lembongan. Nusa Penida is separated from Bali by the Badung Strait. The landscape of Nusa Penida is hilly with a maximum altitude of 524 metres and boasts enormous cliffs overlooking the Indian Ocean. With only a 30-minute fast boat ride from Bali to Nusa Penida it is no surprise the island is a popular destination in Bali.
Over the recent years Nusa Penida island has grown to become a popular tourist destination in Bali. With many awesome things to do on Nusa Penida and just a short fast boat trip away from Bali's mainland it is an awesome place to visit for a few days.
How to get from Bali to Nusa Penida by Ferry
There are multiple ports in Bali with daily fast boat departures to Nusa Penida. Sanur, Serangan and Padang Bai are by far the most popular ports to get on a fast boat to Nusa Penida. The fast boat crossing from Bali to Nusa Penida has an average sailing time of 30 to 40 minutes, depending on weather and sea conditions.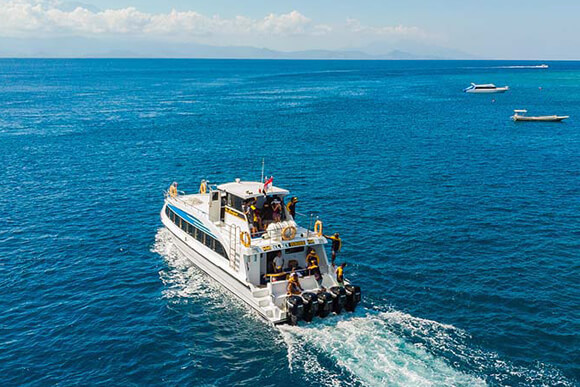 Which port in Bali to depart from depends on where you are staying in Bali, most travelers who are staying in South Bali (Kuta, Legian, Seminyak, Canggu, Jimbaran, Nusa Dua, Uluwatu, Airport, Kerobokan) choose the Sanur route because this is only a short drive away from most of the popular tourist area's mentioned above. Most ferry operators offer free hotel transfer service from most of the area's mentioned above, but this can be different per ferry operator.
Hotel transfer details per operator can be found using our ferry finder tool at the top of this page. In the search results simply click on 'Ticket Details' and open the 'Hotel Pickup & Drop Off' tab for more information.
Ferry From Sanur to Nusa Penida
Sanur is a popular option for travellers due to its location being only a short drive away from most popular tourist areas in South Bali. With reliable fast boat operators which service the Sanur to Nusa Penida route such as El Rey Junior, Crown Fast Cruises, Scoot Cruises and more, all offering multiple round trips per day from Sanur to Nusa Penida, it's a perfect place to start your Nusa Penida holiday. Sanur also offers great restaurants, hotels, shops and beaches. Sanur is only a 30 min drive from Bali's international airport.

Ferry From Padang Bai to Nusa Penida
Padang Bai is Bali's main port and is located on Bali's East Coast. Padang Bai is usually a popular ferry route for sailings from Bali to the Gili Islands but some ferry operators such as Golden Queen Fast Boat also offer direct sailings to Nusa Penida which take approximately 40 minutes. Departing from Padang Bai to Nusa Penida is a great choice if you are staying around Candidasa, Amed or Tulamben.

What is the best fast boat from Bali to Nusa Penida?
El Rey Junior has grown to become our preferred partner for fast boat crossings from Bali to Nusa Penida.

Arriving at Nusa Penida
When arriving by Fast Boat in Nusa Penida it is convenient to know which port of arrival has the best connection for your travel plans on Nusa Penida. Nusa Penida has two main ports, Toyah Pakeh harbor and Buyuk harbor. We offer both fast boat tickets to Toyah Pakeh and Buyuk harbor, you can select the preferred port in the ferry finder tool at the top of this page when searching for ferry tickets.

Last minute ferry bookings from Bali to Nusa Penida
It is worth to mention that last minute bookings to Nusa Penida for the next morning can sometimes be a bit difficult because the ferry companies close at 10Pm Bali time. However, we offer instant confirmation on all of our bookings but because the hotel transfer service is a complimentary service offered by the ferry companies we can't guarantee this for last minute bookings. To avoid missing your boat we advise you to make own transport arrangements to the port.